What's in that vitamin?
If you're not familiar with Shaklee Vitalizer™or Life-Strip®, two essential nutrition systems, then the idea of taking a daily vitamin strip can be a little intimidating! You also may be asking why there are so many supplements, and why you can't just take a multivitamin and call it day. Well, we're here to demystify why vitamin strips are actually a great way to provide the essential nutrition you need in a convenient way.
What's with all the supplements?
With Vitalizer and Life-Strip, there are so many nutritional benefits loaded into the vitamin strips that would be way too much to fit into one, easy-to-swallow supplement. While there are multiple supplements in one strip you have to take, the trade-off is you get a full spectrum of clinically supported vitamins, minerals, antioxidants, phytonutrients, omega-3 fatty acids, and more that have a wide range of health benefits.
Both Vitalizer and Life-Strip support:
Healthy heart*
Healthy brain*
Healthy vision*
Healthy skin*
Strong bones*
Immune support*
More energy*
What makes vitamin strips convenient?
With today's busy lifestyles, we know making healthful food choices every single day plus getting all the nutrients your body needs are virtually impossible. Vitalizer and Life-Strip pack an abundant amount of nutrition in a single vitamin strip to make it easier for you to quickly get what your body needs. With other single-supplement multivitamins, you still have a risk of nutrition gaps.
Here are all the foods you'd need to eat to get the nutrients in one of our vitamin strips:†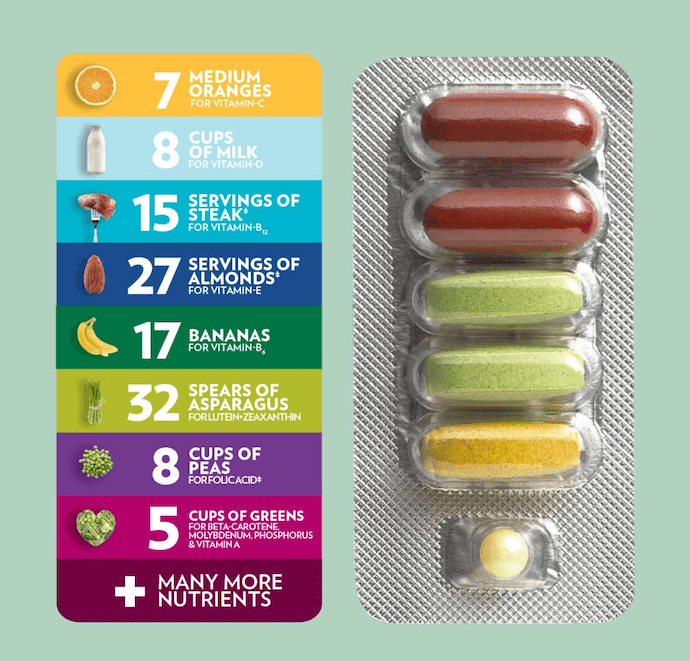 What makes Vitalizer and Life-Strip different?
There are a few things that make our vitamin strips unique in the supplement market.
Shaklee Micronutrient Advanced Release Technology™
Both vitamin strips feature the patented S.M.A.R.T.™ delivery system that helps improve absorption of the right nutrients in the right place at the right time.
Telomere Study
Telomeres are protective endcaps that protect chromosomes in cells. As we age, telomeres grow shorter, and longer telomeres are associated with better health. In a preliminary clinical study, Shaklee users who took Vivix® and other Shaklee supplements had a 40% lower rate of age-related telomere shortening across the adult age range compared to non-Shaklee-supplement users.
Clinical Results Without Compromise™
At Shaklee, we never sacrifice safety and purity for efficacy. We create safe products that do what we say they do. We conduct over 100,000 quality tests per year and screen for over 350 contaminants, pesticides, and impurities on every new botanical ingredient—far more than the US Pharmacopeia standards.
100% Guaranteed
If you're not satisfied, you can send any of our products back to us for a full refund, even if the container is empty. No questions asked.
How do you choose the vitamin strip that's right for you?
While Vitalizer and Life-Strip are both great options for daily nutritional needs, there are some differences:
Vitalizer contains Optiflora® Pearl Probioticto support healthy digestion.* There are also three different formulations to meet the specific nutritional needs of men, women, and people ages 50+. This is one of our best-selling products because of its versatility and wide nutritional coverage.
Life-Strip contains Vivix® to support cellular health and eye health. Vivix is an innovation in nutrition science that contains key ingredients shown in laboratory studies to activate cellular defenses and neutralize free radicals.* Vivix was also one of the key products used in the Telomere Study. Life-Strip also has two different formulations, one with and another without iron. Iron is a nutrient recommended for women's health, and Life-Strip with iron is also an excellent prenatal/postnatal multivitamin.
Start your daily nutrition routine
Don't be intimidated by the vitamin strip; each one is packed with essential nutrition that your body needs and won't get from food alone. Both Vitalizer and Life-Strip are easy, convenient ways to promote healthy nutrition habits on a daily basis, and you can start today!
Check out the vitamin options here and then reach out to me for your free health assessment. You can find me at ptwithlisa@gmail.com and at www.bodyworksprescott.com and www.personaltrainingwithlisa.com
†Food equivalence may vary depending on a number of factors, such as source and preparation. Every food provides nutrients beyond those listed in the above chart. Detailed nutritional information can be found in the Life-Strip and Vitalizer supplement facts boxes.
‡A serving of nuts = 1 oz., a serving of steak = 3 oz.